CUSTOM MADE SKIN CARE
"…since I started using my custom-made skin care, my skin is getting better and better. I am satisfied!…"N.P.
   Once cosmetics were made one by one. At Monalys we retrieved the Florentine cosmetic tradition and we improved it with current technology.   
INGREDIENTS
Our ingredients are natural. We go for effectiveness. We use a formula frame tested over thirty years and we avoid "exotic" ingredients, preferring the traditional ones.     
CUSTOMIZING
On this basis we developed the concept of customization. There are excellent cosmetics available in the perfume stores, designed on a mass market basis. But each of us is different from everyone else, with peculiar needs. Making a skin care that bears your name means removing everything you do not need, and let the active ingredients act to the best to work more effectively.    
THE THREE MONALYS' PRINCIPLES
You know cosmetics do work, provided that three necessary conditions are met.
1) Active ingredients
: they need to meet the highest standards in terms of high quality and perfomances. For this reason you can enrich your custom-made cream or serum with
stem cells
.
2) Concentrations
: the active ingredient has to be used in large quantities in order to express its cosmetic qualities. In our laboratory we make a jar one by one (you can see it with your own eyes!), therefore it could be impossible to use a small quantity of active ingredients.
3) Customization
: no half measures. Ingredients must be chosen to satisfy just your needs. Because each of us is unique. The Monalys method follows these three principles. Moreover, we did develop them.   Together we develop
the benefits map
 that the ideal cosmetic should give you . The Monalys cosmetics are designed and manufactured around your requirements, the application of other cosmetics can therefore be avoided. Despite this, if your beauty routine involves the use of other products, creams and serums Monalys can be combined with other cosmetics in an alternate way . A complete treatment that best expresses its full potential, involves the use of an eye serum that can also be used for the mouth contour, a face serum to be applied as a base and the face cream, as the final product of the whole treatment .    
OUR SKIN CARE
The woman beauty routine includes three cosmetics:
facial cream, eye contour serum, and facial serum
    All of them are designed and formulated to achieve the best performances. Your face will be your fresh and natural weapon of seduction. Ask to our beauty consultants: once we design a personal formula for you, you can
choose between a Premium Edition and Exclusive Edition
(enriched with stem cells).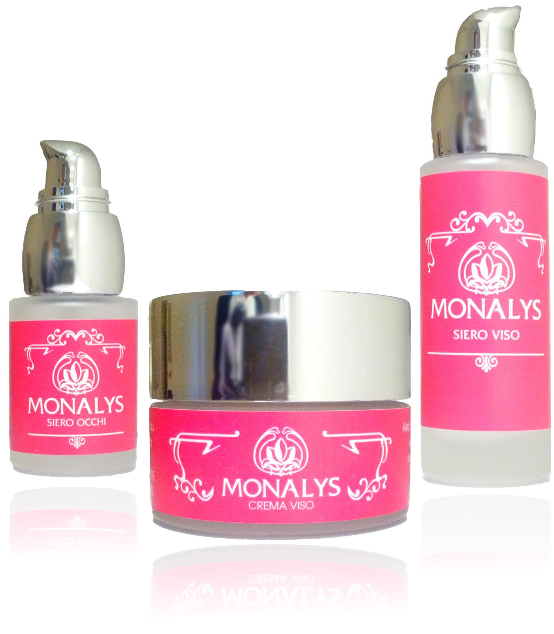 USE AND STORAGE
Since the active ingredients of our cream are highly concentrated , you can apply a really small amount on the face. Our cosmetics are designed to last 3-4 months ( daily application , 2 times per day , calculated on the jar 50ml ) . We design and deliver your personalized cosmetic the same day. Our products are designed to be preserved as a traditional cosmetic. We recommend to use the skin care within six months. Keep in mind that the same cream with the same formula made at different times may have differences in terms of appearance, texture and color. This is due to changes in temperature , humidity and atmospheric pressure to which the cream is exposed during its preparation . These differences are therefore a guarantee of its craftmanship.  
Shop on line!
Now you can purchase on line your custom-made skin care and the "ready to wear" cosmetics. It's easy!
If you are a new customer, visit www.monalys.it/shop, choose your products, and in your reserved area, tab Order, download and fill the "5 minutes test" and email to info@monalys.it.
If you are already our customer, write you name in the "Note" area of your purchase or the lot number you want.
"…since I started using my custom-made skin care, my skin is getting better and better. I am satisfied!…"N.P.
to discover your custom-made skin care