EYE SERUM
The eye serum is a light emulsion rich in active ingredients. It works on areas which are particularly sensitive, such as the eye and mouth contours, whose skin is thinner due to the stress generated by the facial expression. Here, more than in other areas, the skin shows signs of age in terms of wrinkles, puffiness and under eye circles.  A specific product is highly recommended for a daily use. After applying it you will feel an immediate tightening effect on your skin.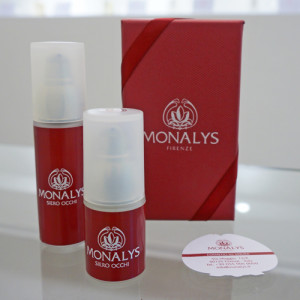 Apply a small amount of product twice a day. The specifics will be analyzed with you and, within certain limits, you will be able to intervene in the composition of your formula: after all, it's made for you.
Since the active ingredients of our cream are highly concentrated , you can apply a really small amount on the face. Our cosmetics are designed to last 3-4 months (daily application , 2 times per day , calculated on the jar 50ml).
Two editions available: the Premium edition boasts the best ingredients used in high concentration, focusing on your personal requirements.
The Exclusive edition is a special treat for those who don't want to miss the best performances: together with the active ingredients of our Premium edition you will find active ingredients from stem cells of vegetable origin, which are at the forefront of cosmetic technology.
We design and deliver your personalized cosmetic the same day. Our products are designed to be preserved as a traditional cosmetic. We recommend to use the skin care within six months.
Our serum is dermatologically and microbiologically tested for your safety.
Available in two sizes: 30 ml and 15 ml.
Choose the right skin care for you
Visit the "Custom Made Skin Care" section to know more about this product and how we can design it for you.
"…since I started using my custom-made skin care, my skin is getting better and better. I am satisfied!…"N.P.
to discover your custom-made skin care